This week officially started this quarter's earnings releases, and one would think that investors would be a little nervous given the unheard-of shut down in the U.S. economy. There are so many conflicting signals. How can rational investors really think they know what's going on? Consider just some of the conflicting financial indicators:
Initial Jobless Claims: For the 12 months prior to the outbreak, the average weekly jobless claims were between 200,000 and 237,000. Each week people waited breathlessly for this number to be released. On March 27th of this year, the number shot up to 6,867,000. Think about that. This was the highest number ever released. At the peak of the last crisis, the highest recorded number was 661,000. This graph from the Fed puts it in perspective.

The latest release was 1,314,000, so it's showing a huge decrease in claims, but if it were not for the context of the recent huge spike and aftermath, this would have been the largest number in history.
Unemployment Rate: On June 30th, the unemployment rate hit 13%. Essentially, one in every eight Americans is unemployed. That is a staggering number. There is only one recorded example in the last 70 years that we have even crossed the 10% threshold—namely December of 1982. In 1933, at the height of the Great Depression, unemployment hit 24.9%, so at least we are not at that level. Lest we forget, at the end of 2019 we were at a 3.5% unemployment rate. In just six months, the number of unemployed people in the U.S. has basically quadrupled. Thankfully, we did have some relief when the last release came out at a lower 11.1%. Still, it's astounding to think about how crazy that is.
China vs. India: There are so many headlines and the news cycle is so fast that I am afraid not many people have noticed that China and India are fairly close to a war. China has made incursions and the hyper-nationalist Prime Minister Modi of India has vowed that China will not get an inch of territory. This is a very complicated international story, but we are talking about two nuclear powers. Soldiers on both sides have been killed and this is a serious matter. What does it mean? Who knows? I tend to watch for the one-off news stories and this one has caught my attention. It's not just that China is encroaching upon Indian interests. They are also continuing to cause all kinds of problems in the South China Sea. The Chinese have actually built islands and landing strips in the South China Sea. This is a problem that could have huge market implications at some point. Ignore this at your own risk…it is a serious situation that is being overlooked by most people in the U.S.
"Big Election": We have an important election coming up. I don't think that I am really surprising anyone with this news, but it's actually kind of a big deal. If the polls are to be believed, we could have the senate and White House flip and an increase in the house majority. Mr. Biden has already pledged to raise taxes. What will happen to the stock market if this occurs? All the big investment banks are giving their prognostications. Guess what: They don't know the future any better than you or me. It's anyone's guess. That sounds like an occasion for volatility…doesn't it?
Coronavirus: I would be remiss if I didn't at least bring up the stats from the pandemic we are all suffering through. Infections and hot spots seem to be on the rise, but deaths seem to be on the wane. As I mentioned in my last post, I was fortunate enough to get out to the beautiful state of Wyoming. When we entered the hotel, we had to have our temperature taken and wear a mask. Ok, I get it—being safe. I asked the doorman if anyone had failed the test yet and he said "no". I asked him what happens if someone fails. He said there is a long protocol to follow: First, a safe room, then a quick visit from a local doctor, and an on-the-spot COVID test. The hotel had masks in containers all over the lobby and near every elevator. There was also hand sanitizer at every turn.
I feel like no one really knows what we are dealing with and yet there are a number of protocols that vary from business to business. Who makes all of these rules? Who can enforce them? Can you get arrested for not wearing a face mask in the local grocer? Is that a real law or just a guideline? Not only do businesses have different rules, but each state also had its own guidance. In fact, every state is in a phase. Illinois is currently in Phase 4. With all the variations in rules, I don't even remember all the guidelines that have been released at a state level. There is so much confusion and uncertainty. For some fun on the topic check out this link to a YouTube video. You may have already seen it—it has had over 100k views, and I think it sums up people's feelings right now. What's the point? Confusion and… perhaps volatility? Do you think?
And so, I finally get to the title of my blog: 11,000.
As I write this, the NASDAQ has just hit an all-time high. It is approaching 11,000 (it closed at 10,390). On March 23rd it was at 6,860. That is just over a 50% increase in 3 months. Are you kidding me? How can that be? Some of the major stocks in the index like Apple, Google, Amazon, Netflix, Facebook, and Adobe are up nearly 100% over that time frame. During the really bad stretch for stocks in late March, the VIX (CBOE volatility Index) hit an all-time high. But now it is below the '08, '02, and '98 levels. How can that be?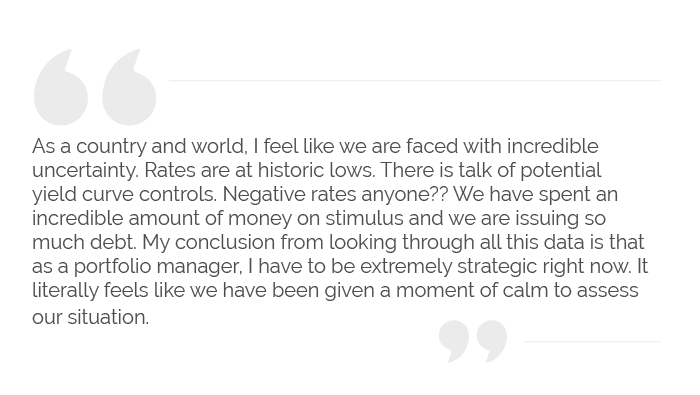 As a country and world, I feel like we are faced with incredible uncertainty. Rates are at historic lows. There is talk of potential yield curve controls. Negative rates anyone? We have spent an incredible amount of money on stimulus and we are issuing so much debt. My conclusion from looking through all this data is that as a portfolio manager, I have to be extremely strategic right now. It literally feels like we have been given a moment of calm to assess our situation. We should be figuring out our weak spots and addressing them while we can. Making strategic moves when chaos is reigning is almost impossible. If you try to cover mistakes once the market is flying in your face, it's too late.
Most of you have probably heard the expression, "The horse is already out of the barn." The rough translation of this is that trying to stop something bad happening when it has already happened and the situation cannot be changed, is foolish. Issues with our portfolio, loans, or capital structure need to be addressed BEFORE the "bad" thing happens. And the scary thing is, as I discussed above, none of us really know the what, or the when, or even the if of the next "bad" thing. But I for one think that for all the reasons I reviewed, and probably for lots of reasons that haven't even occurred to me, the potential for a return to high volatility is certainly there. One thing we will all remember about 2020 is that it has been full of surprises—and we still don't know what's to come.
Whatever the next "bad" thing is, it may or may not be something I've just discussed. There will also be a next "good" thing! A vaccine or treatment could be found. There are a lot of very smart people trying to figure all of this out. Who knows, maybe we will be back to normal by the end of the year. I sure hope so. But there is no reason to assume the next good thing precedes the next bad thing, or vice versa.
Final, final thought: I had a really good pastrami sandwich with spicy mustard and sauerkraut today. On a nice marbled rye. Life is good.