Well, it's officially fall. The harvest moon has arrived and there has been a significant drop in temperatures. Pretty soon in the northern half of the country the leaves will start to turn and the pumpkin spice lattes will appear everywhere. Before we know it, it will be Halloween. It's great to see the high school football fields and the Friday night lights all around the area. Given last year's challenges for school systems across the country, in-person to remote and the Zoomiverse, it is nice to see kids excited to be back together with their friends.
Having said all that, things are not totally back to normal. Many states are requiring masks in school while some are banning mask mandates. It's all become very political and probably won't be resolved for quite a while. I found this graphic from Statista, and I thought it would be worthwhile to pass along.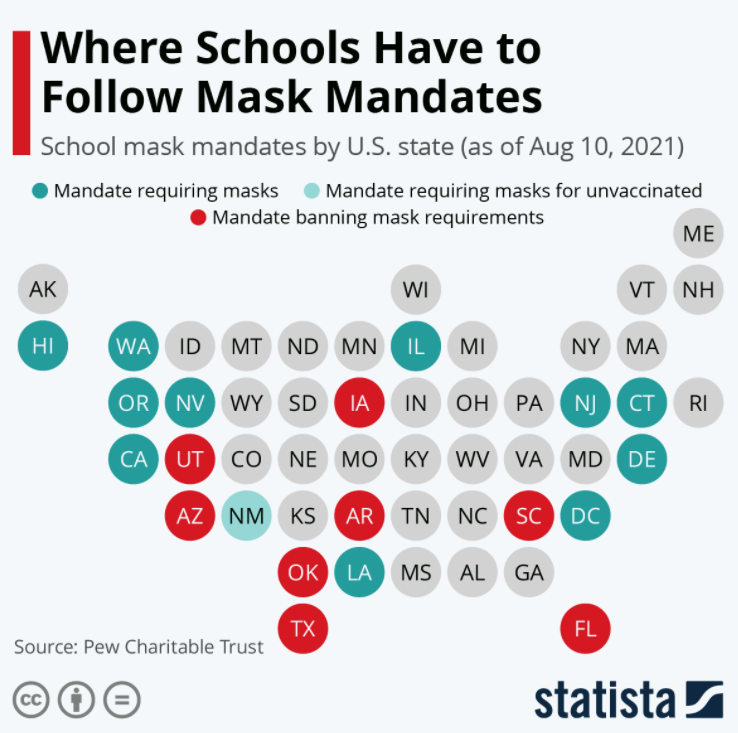 One of my main questions on this topic is how the heck can any of it be enforced? Is it going to become part of a teacher's job to now enforce whether a kid is wearing a mask properly? It is really pretty amazing to see the 100k college/pro football stadiums jam packed and then the next day the students at those same colleges have to wear a mask in a class of 15 people. Following along the same vein, I visited Lipscomb with my youngest daughter last week. Lipscomb is near Nashville and practiced very careful protocols the whole time we were there. We got back to our hotel in downtown Nashville on Friday night, and the downtown area was overflowing with people—I would guess there were 40-50k people in the area. No masks and no protocols, and I'm guessing there were a fair number of college students enjoying the festivities.

I'm certainly not a scientist and I don't want to pretend I have a solution.
On a more positive note, I was able to teach my PCBS course this year via Zoom. It felt great to reconnect with students from all over the country, but it wasn't quite the same. At Performance Trust, our education platform has always been extremely important to us. We had planned on all meeting in person this last week for our bi-annual Advanced Course, but we ended up with a virtual conference due to the increase in cases. Better than nothing, but not the same. Both of these venues (and other conferences around the country) are critically important for the banking/credit union community, not only for the education and learning opportunities, but also for the hundreds of social connections that are forged.
Currently, we are planning on holding an in-person conference in Dallas in mid-October and I personally can't wait to see people in our class and not talk just to a screen. Unfortunately, when you teach to a screen you miss all the body language feedback. It's hard to tell when someone is struggling, and there is nothing worse than posing a question into the void…just hoping for a student to respond via a chat box.
There is another "back-to-school" situation which I think needs to be addressed. Namely, the mentoring and learning that new employees get from their more experienced counterparts.
As Jack Welch put it: "Before you are a leader, success is all about growing yourself. When you become a leader, success is all about growing others."
Both activities are currently being hampered, and yet, it's so important for both parties. The younger employees need to see and interact with people who have been through the battles and dealt with troubles. How do they handle adversity? How do they treat others? I cannot imagine my younger self trying to learn about bonds, the markets, customers, trouble shooting, and so much more without the mentoring relationships I had early in my career. Sure, Zoom, Slack, and Google documents are cool and give people a lot more flexibility, but it will never make up for the in-person relationships of the past. We need to get back to the in-person situations as soon as it is safe. Since I'm now one of the older guys, I can tell you that I really miss the interactions with the young up-and-comers—it always kept me sharp and intentional about what I was doing. Getting asked tough questions and gaining perspectives that I never thought of before is invaluable. It was probably my favorite part of the job. Getting "dragged" into a meeting because they needed some gray hairs always caused me to groan and moan, but I actually loved it.

Further, I think business travel needs to return to normal as soon as possible. I have done hundreds of board meetings and while I can deliver the same materials via a web app, it's just not the same. The questions that are discussed one-on-one over a cup of coffee or during a break are just as important as the formal presentations. U.S. travelers took 464 million domestic business trips in 2019. It is estimated that domestic business travelers in the U.S. dropped to 185 million in 2020 because of the travel restrictions and fear due to the pandemic. Many forecasters project that we will see a strong bounce back over the next couple of years. We need to. It's not just the benefits of in-person meetings and relationships, it also contributes to so many other industries—hotels, airlines, restaurants, golf courses (although they seem to be doing just fine), and the list goes on and on.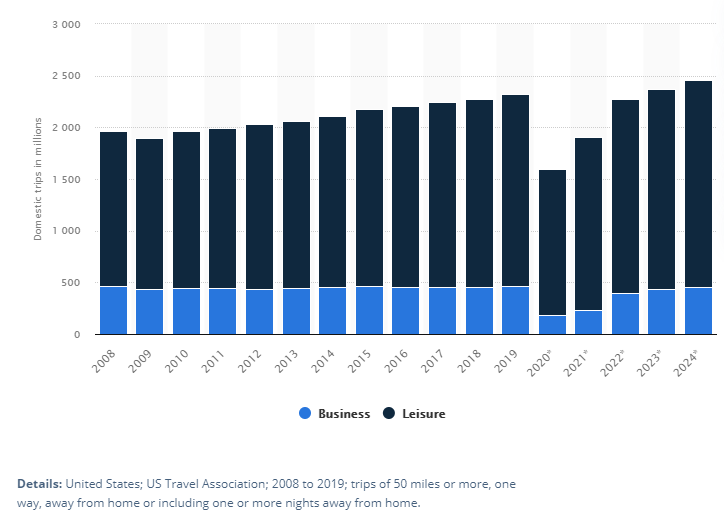 And this is just domestic travel. The numbers for international travel are even more dismal, especially for international business travel. There are so many non-linear implications, some of them are still unknown.
Thus, the title of this post: We need to get "back to school". Safely, of course, but as soon as possible.
Final, final thought: Oh, how I miss a good old fashioned business lunch. Can't wait.
Fill out the form below to subscribe.