When I think of Memorial Day, I usually think of an odd Monday at the beginning of summer when I don't have to go to work and hopefully get to play some golf. For some reason this year, I have started to think about what it really means. It may be that the market is so boring. It may be the pandemic. It may be that I started my blog one year ago this weekend. It may be that I am slowly but steadily getting old. Whatever the reason, it's really hitting me this year.
I started doing a little digging, and here is what I found: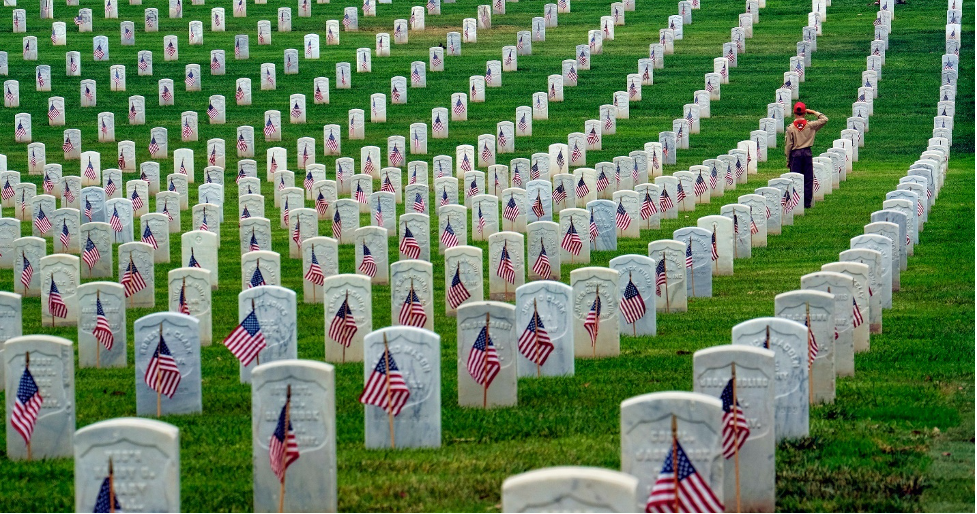 Memorial Day (previously, but now seldom, called Decoration Day) is a federal holiday in the United States meant for honoring and mourning the military personnel who have died in the performance of their military duties while serving in the United States Armed Forces. The holiday is observed on the last Monday of May, and for many people it marks the beginning of summer. As someone who grew up in the great state of Michigan, this was usually the holiday that marked the insertion of many docks around the thousands of small lakes in the state. According to Google, it was first established as a national holiday in 1868. Traditionally, interested volunteers would go to military cemeteries and place flags on the tombstones of our incredibly brave military personnel that have fallen. What a great celebration of the men and women who have served our country so valiantly, and how cool that this observance has been going on for over 150 years. As I reflected on the incredible history Memorial Day stands for, I have to admit that I'm slightly ashamed that I've just thought of it as a day to play golf and cook hamburgers. I know this year; I am going to take a quiet moment and reflect on all the sacrifices that were made to make this country what it is today.
You may wonder how I am going to try and connect this to the markets. Good question, I'm not. What I would like to do is just make some general observations and we will see where it takes us.
First observation: life is different this year.
Recently, I discussed the incredible rise in the price of lumber. I thought I would include a graph to put this into perspective. What you will see below is its dramatic rise in price from last year at the same time. Here is the description of the lumber contract as described by Bloomberg: Random Length Lumber Futures - contract specifies 110,000 board feet of random length 8 - 20 softwood 2 x 4s, the type used for rehabbing and construction. Sometimes graphs are helpful and sometimes they just look like a graph. I always like to think and talk about actual value. The contract for the 110,000 board feet of lumber would have cost you $38,071 last year. Today the same amount of wood would cost you $146,740. That is nearly a four-fold increase in just the price of wood. Think about that. Hopefully you didn't short that contract!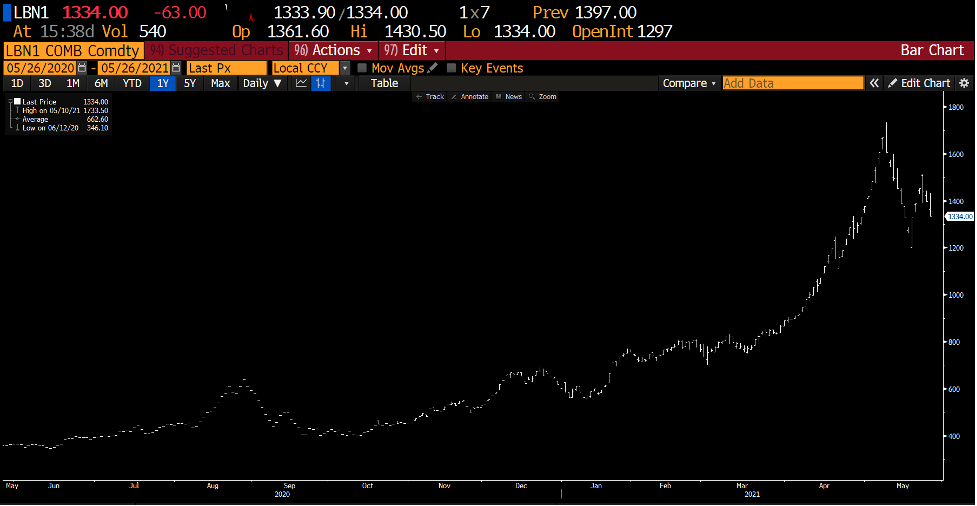 When you think of wood, I normally think of framing a house or building a deck. I have heard tales of homes in some states that instantly get 10-20% offers above list price the moment the house goes on the market—sight unseen. It makes me want to sell my house, but could I buy anything? It's hard to say. Most of the stories I hear are secondhand, so I went to one of the greatest sources of financial information I know of, namely the St. Louis Fed (aka FRED). They have tracking data for the S&P Case-Shiller U.S. National Home Price Index since 1988, and it really puts this price rise into context.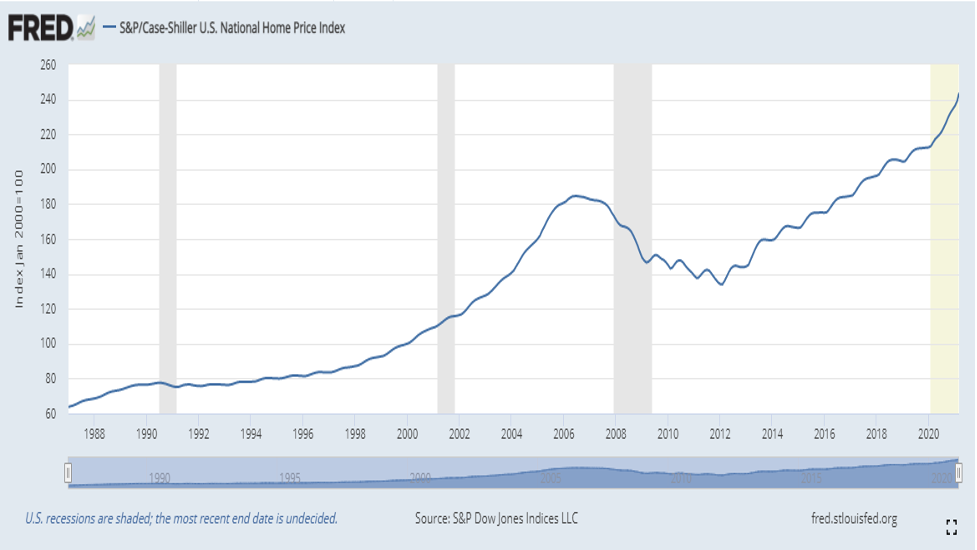 Raw materials do matter.
Some other strange things have been happening as people work from home more often. According to the national golf foundation, there were 502 million rounds of golf played in the U.S. in 2020. This reflects an increase of almost 14% compared to 2019. They also believe that this number would have been closer to 520 million were it not for the 20ish million rounds lost due to the COVID-19 closures, etc. Their estimates say that the average active golfer played just over 20 rounds of golf last year. Wow. That's a lot of golf. Even if you catch a round on Memorial Day.
Gardening. Believe it or not, there is a real shortage of seeds right now. People are gardening and planting like never before. It's a great outdoor activity and with food costs going up so quickly—why not plant your own tomatoes? I'm quite sure if I tried it, most of the plants would die, but there are many new families moving into the suburbs or more remote areas and they all want to plant a garden. It's funny where my research takes me sometimes, but for this bit I found myself on the Home Garden Seed Association site where I learned that many popular types of seed are unavailable. "…The supply of packaged seed will run out. Seed companies are experiencing order volumes 8 to 10 times greater than last year! This is an unprecedented increase."
Leisure travel is ramping up.
On May 7, 2021, 1.7 million Americans went through TSA checkpoints. This was the highest number since the pandemic began. Ticket prices are higher—planes are flying 90 percent full, and the average ticket price is already up 14%. Hotel room occupancies are up dramatically, and the beaches are crowded. People want to travel. The consumer in America is willing to pay higher prices because why not? Most families did not travel last year, and so they are going to ignore the fact that gas prices are much higher. Many people feel like they have "earned" a vacation by now, plus many have thousands of extra dollars recently doled out by the government.
So, this brings me full circle, back to Memorial Day. It is the kickoff to summer, but I want to encourage you to reflect on the true meaning of this holiday we get to enjoy every year. If any of my readers are serving or have served, I want to thank you sincerely for your service.
So, this brings me full circle, back to Memorial Day. It is the kickoff to summer, but I want to encourage you to reflect on the true meaning of this holiday we get to enjoy every year. If any of my readers are serving or have served, I want to thank you sincerely for your service. I know that from time to time I forget how wonderful it is to live under the protection these folks provide. We live in the greatest country on earth and that would not be true without our incredible military service members and their families.
Final, final thought: It is now officially grilling season. My game is weak—send me some good recipes!