Many of you will remember the famous line delivered by Audrey Hepburn in the movie Sabrina: "Paris est toujours une bonne idée." For those whose French is rusty or non-existent, that's, "Paris is always a good idea." I would usually agree with that sentiment, that is, before the unions started burning stores and breaking windows on the Champs Elysée. But still, I do love Paris…and London, and Rome, and all of the other wonderful cities in Europe.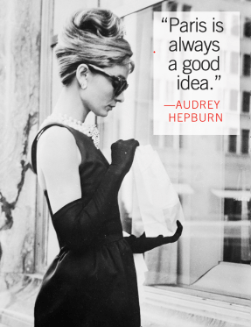 While it is never unpleasant to remember Ms. Hepburn, I am reminded of this line because Europe has been on my mind as of late. Europe is in serious trouble. I'm not making a joke and I'm not taking it lightly. Obviously, the pandemic has hit virtually all of the economies across the globe, but I feel that the Eurozone has been particularly affected. The major cities of Europe have become, in recent years, very dependent on tourism, in particular on the U.S. tourist. We tend to pay high prices and spend more on food and liquor than the typical European tourist. And now this has stopped.
How can it reverse quickly? One article I read last week suggested Americans use London as a clearing zone for quarantine. The idea is that you can go to London and spend 14 days isolating in a hotel and then be free to take your tourist dollars anywhere in Europe. So, for all of you that have 20+ days of vacation time and budget built up, and who relish 14 days confined to a London hotel, by all means, go for it. But I doubt this will reverse the hit to tourism enough to make a dent.
Why should we care about the Eurozone economy? First, because it is connected to our own, and second, because it may be a harbinger of our own.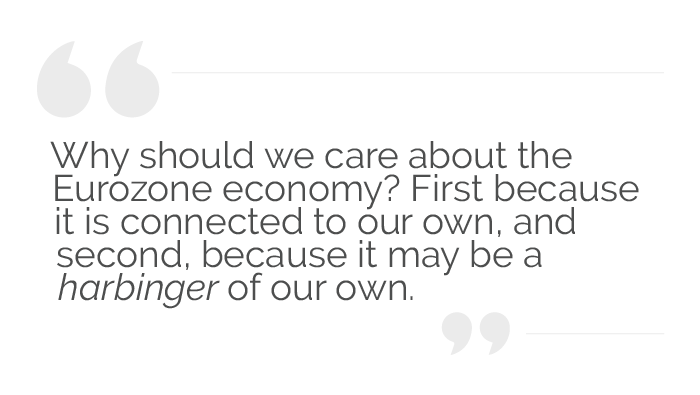 I read with fascination this weekend about the inflation rates across a couple of the major economies in Europe. Here are some of the stats provided by Bloomberg:

We now expect headline inflation to hit -0.4% in September,
down from -0.2% in August. The consensus estimate is for a flat
reading. Core inflation is also likely to drop to 0.2%.

Continued distortions to clothing and footwear prices linked
to the later than normal summer sales in Italy, a sharp drop in
the cost of household energy in Germany, and broad-based weakness
in hotels and restaurants prices across the region are likely to
drive the decline.

Our base case had been that the European Central Bank would stand pat for the
rest of this year. But the surging Covid-19 infection rate in
some countries and extremely low inflation are tilting the
balance of risks toward more policy action.
They call it inflation, but in my world, negative inflation is equivalent to deflation. I'm definitely not an expert on the hectic world of deflationary spirals (like we have seen in Japan), but what I do know is this: when you enter a deflationary spiral you see the following wicked mix of financial outcomes including lower GDP, lower wages, lower prices, and lower profitability for corporations. In a nutshell, it really sucks. Such a spiral, while not foregone, is now officially on the radar screen for the Eurozone. Check out the latest European GDP results supplied by Statista.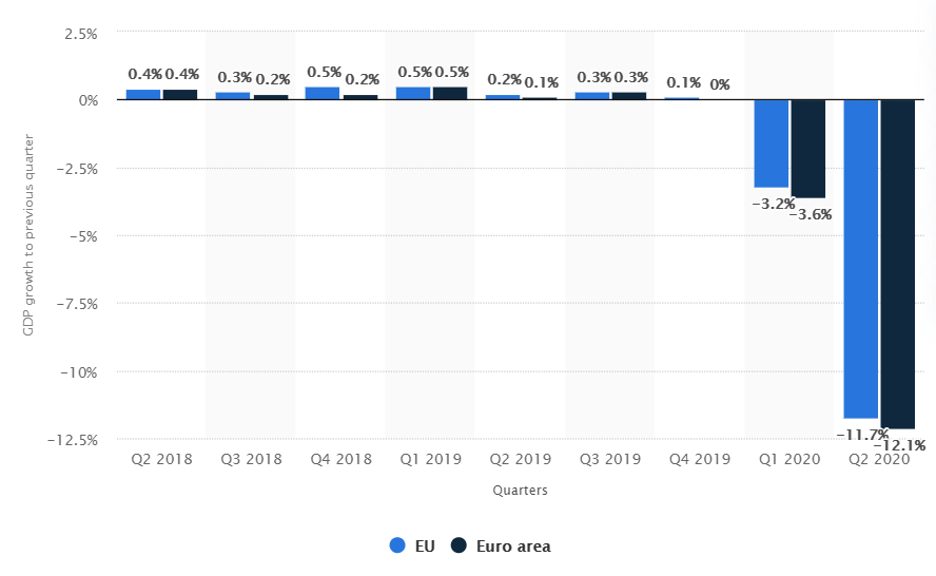 Just to summarize, we have negative inflation rates and massively negative GDP output across the region. In addition, if we look at interest rates across the Eurozone, we see a very bad situation. Here are the latest rates on five-year notes for most of the countries in the region. Check out the far-right column, which shows the yields on the sovereign notes of these nations.
But so what? But what has that got to do with us in the U.S.? I'll tell you why I find this so concerning. Most, maybe all, bankers in the U.S. today have been trained to worry about inflation, and rates up. In fact, the "bad old days" we've been raised on is the stagflation period of the '70s, when prices on energy skyrocketed, and yields of all sorts skyrocketed with them, into the mid-teens. We were raised with that disaster looming in the background, but we are currently in exactly the opposite situation today, and no one has been "raised" to prepare for it. We've had an incredible collapse in energy prices. We've experienced unprecedented changes in consumer behavior, business travel, restaurant dining, entertainment consumption, retail shopping—and the list goes on.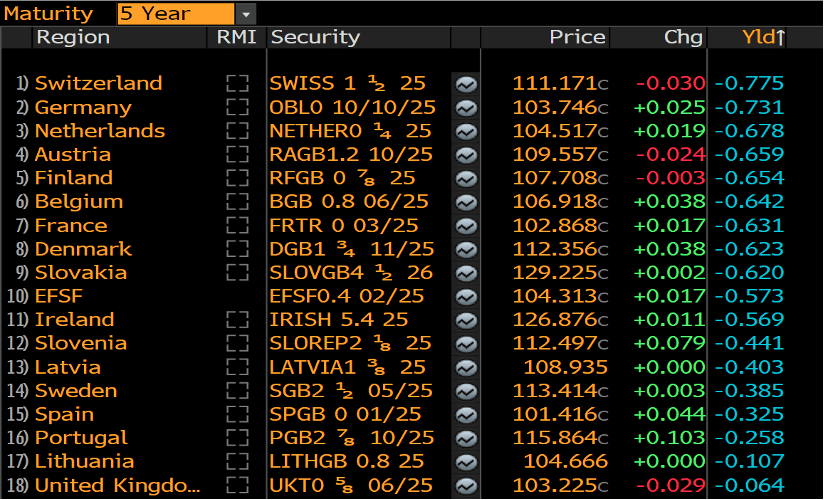 Everyone in the industry is aware of all of this, of course, yet by and large, we still fear rates up, because no one currently in banking has ever experienced a severe deflationary spiral. The last time one occurred was the Great Depression when nominal prices in the U.S. dropped by a third between 1929 - 1933. A third. During that period, agricultural prices collapsed, trade collapsed, wages collapsed, and thousands of banks failed.
As Trevor Jackson of George Washington University describes in his April Foreign Policy Insider article, "Terminal Deflation is Coming,"
"That inflation has been at the center of the education and professional practice of central bankers since the 1970s doesn't lessen the dangers posed by deflation. Deflation depresses demand by encouraging consumers to delay their spending, especially on infrequent big-ticket purchases like cars and appliances. In a deflationary environment, consumers expect prices to fall, so they wait on their purchases. That, in turn, creates a dangerous feedback loop: When consumers don't buy, producers are likely to lower their prices, which confirms consumers' expectations, so they wait longer, which drives down prices further, and so on, all while nobody buys anything. Sales dry up, so profits dry up, and businesses go under."
Here is a link to the article. Make sure your glass of whiskey is in hand before reading.
Now to be fair, there are plenty of signs that the U.S. is not heading towards deflation. People appear eager to buy new homes in the suburbs and to spend on home improvements which is perhaps offset by the decrease in realized home prices in some major cities. Auto and truck sales seem to be hanging in there, as you can see in this graphic from Statista.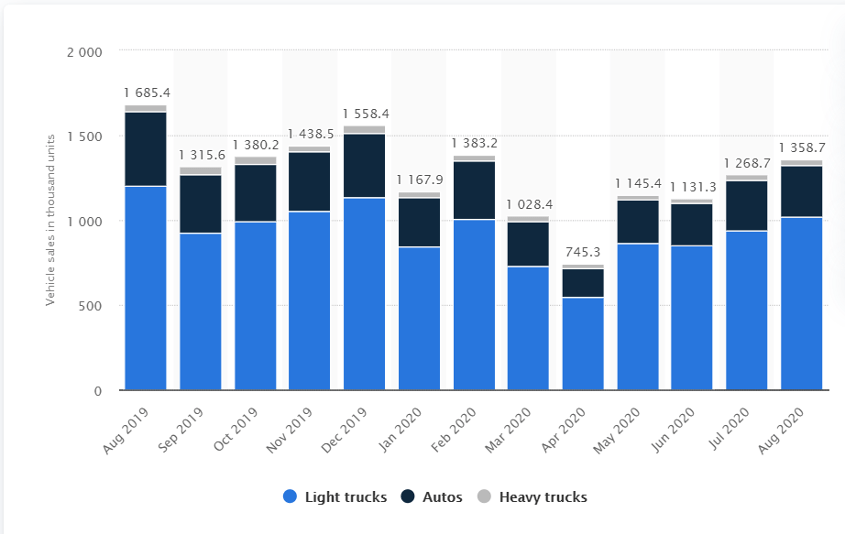 We still have positive inflation numbers here in the U.S., but let me share again this graphic I included in my last post. This gives me some solace, as we are not experiencing the negative 0.3%, 0.4%, 0.5% inflation rates seen in Europe so far.
One thing I do know for sure is that we do not want to enter that spiral. Not now, not ever. But, as Jackson observes, many of us have been trained to ignore that scenario and to do that would be foolish. If heaven forbids, we do start spiraling, many banks will fail.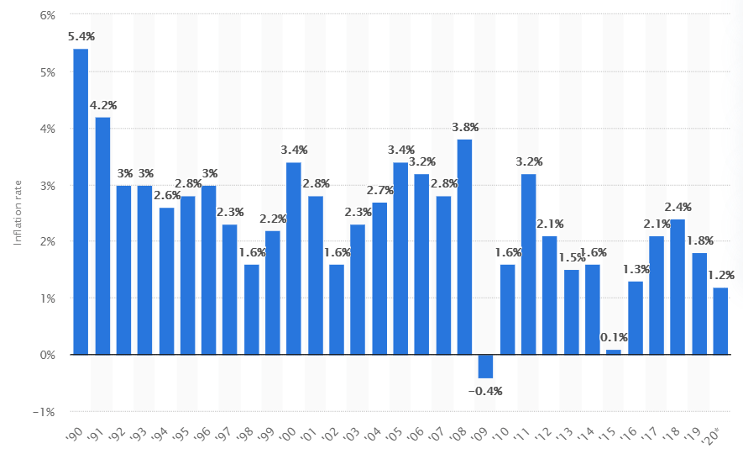 So, back to my theme. Contrary to the tone of my article, I like to think of myself as an optimist, but also a realist. I truly fear that the banking industry is poised to go through one of its most difficult periods in the last 100 years. What if it does? I again harken back to the Rudyard Kipling quote from in my August 20th post entitled "The Pack."

"The strength of the pack is the wolf
and the strength of the wolf is the pack."
We need to work as a pack if we want to thrive. That means sharing ideas, insights, and best practices. Now is more of a time to work together to protect the industry than to only seek temporary advantage, although striving to be the best in the pack is okay at the same time.
Later this week, guest contributor Bart Smith will share his insights into specific risks within the community bank and credit union industries. I can't imagine a more important time to hear from an expert like him.
And of course, I look forward to getting back to Paris, London, and Rome. Someday, when I don't have to spend an English fortnight in quarantine.
Final, final thought: Autumn. Crisp air. Warm apple cider. 'Nuf said.

Be sure to fill out the form below to subscribe to my weekly blog.