"Tempus" is a Latin word that can mean, among other things, "phase." I feel like we are entering a new phase right now…let me explain. I've been reflecting on this pandemic period which has had us locked down to one degree or another since early March of 2020. That's quite a long time on a human scale. Today, there are little stacks of semi-used masks in each of my family member's cars, yet I had never even imagined myself wearing a surgical mask prior to the start of this last phase.
I'm sure there will be many books written about this now-passing period, and maybe too many smart people commenting on it for years to come, but the result of my weekend reflection is the belief that we are entering a new phase. I may not ultimately be able to be the smartest retrospective commentator on the pandemic, but maybe I can be among the first! I think we can break down the recent phase into distinct periods, and possibly tie them into the capital markets to boot!
First, came fear.
I think we were all scared in early March of 2020 as we watched terrible footage of the hospitals and emergency medical situation in New York and then, slowly, across the rest of the country and world. No one knew how bad things would get. The emergency lock downs were something that none of us had ever experienced before. I remember pacing my home office, watching the news non-stop and imagining the worst. The markets got absolutely crushed, as you can see in the S&P 500 Index* chart below.
Using round numbers, the index collapsed from around 3,400 to about 2,200 from February 21 to March 21, 2020. Let's call that a 35% free fall. So, not only did we have the terror of this unknown disease, but we also had well-founded financial fears as well. The great, awful unknown loomed. School, businesses, offices, and what seemed like every business closed-- physically at least. It seems like a long time ago now, but it was just 18 short months back. Remember people around the country were hoarding toilet paper and other basic goods, disinfecting their grocery packages and hunkering down? Those are times that I hope to never witness again.
Second, came adaptation through masking.
Somewhere between 0-1% of Americans wore some kind of face covering prior to March of 2020. Think about that. I never considered doing so, and unless you were seriously medically compromised, neither did you. But by June of last year, according to Statista (see bar chart), well over 80% of adults were wearing a mask. I dislike wearing these masks, and yet I wore one every time I went to a public space. Given the stats, you probably did as well.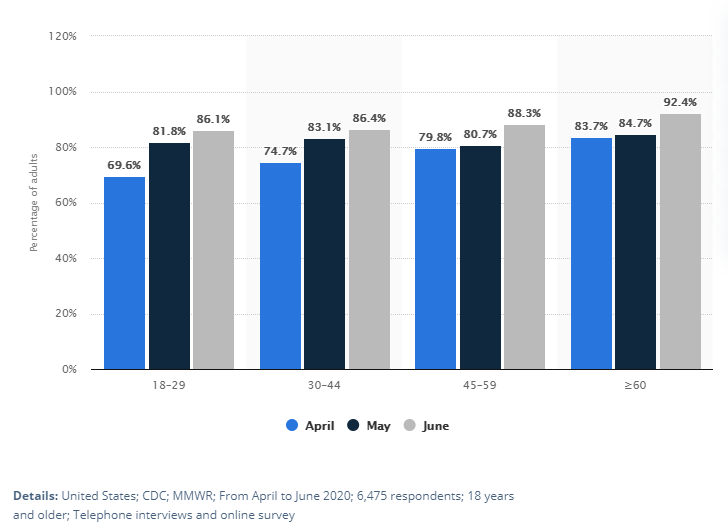 It seemed like the right thing to do and our public leaders were telling us that we must wear them. Most people complied, because we still didn't know what this virus could do and there seemed to be no other defense against it.
If you do a quick calculation and think about the sheer number of masks that must have been produced and sold to Americans alone, it's staggering. The population of the United States is roughly 330 million…and if you are like me, you bought more than one mask per person in your family. I couldn't find the exact number of mask sales, but it had to be well over 1 billion masks. Average cost? Who knows?
Third, came testing and vaccines.
It seems like a long time ago now that COVID tests had to be scheduled days or weeks in advance. If you had any of a vague list of symptoms, the guidance was to quarantine for 10 days. If anyone coughed in a social setting, panic (or at least awkward discomfort) would set in. I think it's safe to say that most people were wary. Testing was really the only option to provide comfort.
After 9 or 10 months, we finally got the news that vaccines were imminent—an amazing feat. There is understandably a lot of red tape for any new vaccine, and it was a herculean effort to be sure, and quite impressive that our scientists were able to pull it off safely and effectively. As I reflect on it, I recall that as the vaccines were being rolled out many people were hopeful to get the vaccine right away, but most had to wait several months. What a change. Now you can walk into any Walgreens or CVS without an appointment and get one right away.
Fourth, came political wrangling.
All of this became politicized this past spring. As the 1-year mark passed and cases started to drop in the U.S., many people grew weary of mask mandates and vaccine requirements.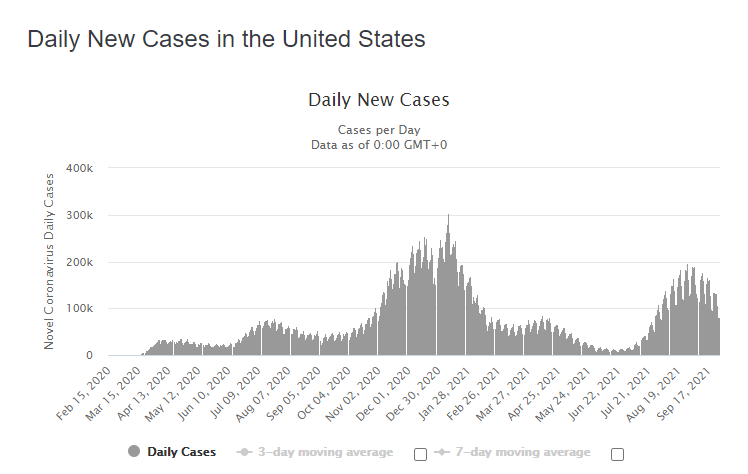 I'm not smart enough to know exactly when or where this became political, but I think we can all agree that it has. I've been in states that are more open and states that are stricter. I don't think it matters, because now, which is odd, I never would have thought in phase one that a terrifying disease would become a political football, but clearly it has. I'm not sure when this period of political wrangling will end, but as an indicator, reading through Illinois' most recent mask mandate, which began on August 30, I note that it has no end date attached to it. I'm not trying to judge or even really comment on the effectiveness of these orders, I am just observing that it has indeed become fully politicized.
I think fifth, will come "treatment".
I'm not a scientist—and I've never even played one on T.V.—but by just reading the news and staying informed, I've concluded that COVID is not going to suddenly disappear. It's going to be with us for a long time, like influenza and the common cold. There will be flare ups and breakouts and variants, so we need to figure out how to treat people to cure them of a case or at least relieve their symptoms. The great thing is that it is starting to happen. Regeneron has a monoclonal antibody treatment that appears to be effective, and just this week an announcement regarding oral medication was released by Bloomberg:
"Three pharmaceutical giants — Merck & Co., Pfizer Inc. and Roche Holding AG — are in the late stages of testing oral antiviral drugs (Merck in partnership with Ridgeback Biotherapeutics LP and Roche with Atea Pharmaceuticals Inc.) that aim to block the Covid-19 virus from replicating. If given early in the course of infection, these medicines have the potential to keep people from getting severely ill or ending up in the hospital. Because pills are relatively cheap to manufacture in large amounts and easy to distribute, expanded funding could make them a pandemic game changer. The U.S. has already promised to buy a limited supply of Merck's treatment and announced $3.2 billion in general antiviral investment in June. But investing more in all three programs ahead of authorization could ensure ample supply of what may be very useful medicines to deploy as soon as regulators give the go-ahead."
The way my simple mind thinks of this would be kind of like Tamiflu, the prescription influenza drug. Let us all hope that these drugs work!
In my next post, I will try to connect this treatment phase back to the capital markets. Right now, the markets are on a knife's edge of inflation threats, supply chain issues, huge spending bills, and other bugbears. As always, we don't—and can't—know the future.
Final, final thought: Really good corn on the cob is tough to beat…especially when paired with a great cheeseburger.
Fill out the form below to subscribe to my weekly blog.
*S&P 500 index is used as a general measure of market performance. Investors cannot invest directly in an index.
References to companies are for illustrative purposes and not a recommendation to buy or sell a security.
The information, analysis, guidance and opinions expressed herein are for general and educational purposes only and are not intended to constitute legal, tax, securities or investment advice or a recommended course of action in any given situation. Information obtained from third party resources are believed to be reliable but not guaranteed. All opinions and views constitute our judgments as of the date of writing and are subject to change at any time without notice.