ASSET LIABILITY
MANAGEMENT
Putting the "M" Back in ALM
Traditional asset liability management tools are misleading, focusing on only part of the picture. Enterprise Shape Management™ is designed to fit your institution's needs and take you beyond asset liability compliance and into balance sheet management. We combine economic value and income simulation to provide a holistic view of your institution, so you can better understand its strengths and weaknesses—ultimately enabling you to make more strategic decisions. Enterprise Shape Management services include asset liability reports, custom asset liability strategies, and on-demand analysis of asset liability inputs.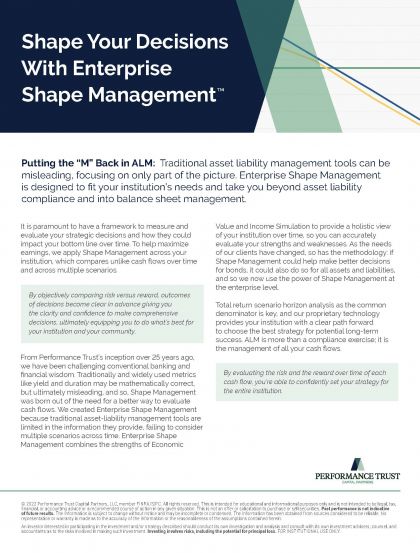 Still Need More Information?
Download Our Fact Sheet
Learn how Enterprise Shape Management integrates with our other services to provide you with the most holistic asset liability management analysis to set institutional strategy.