Labor Day is a great holiday.
Unfortunately, for much of the country Hurricane Ida or wildfires have been dominating the news, but here in the northern Midwest, a region not particularly famous for wonderful weather, we had been enjoying sunny days and mid-70's temps. I hope everyone was able to enjoy the long weekend in some way. How did this seemingly randomly scheduled "end of summer" holiday even begin?
Well, this Federal holiday, celebrated the first Monday in September, was established to honor and recognize the American labor movement. It's not totally clear where the tradition started, but many historians credit the Knights of Labor with starting parades and public festivities sometime around 1882. It wasn't always a Federal holiday; in fact, by 1894, when Grover Cleveland made it official, only 30 states officially recognized it. Sometimes workers would strike in big cities just to get the day off. Thankfully, over the last 130ish years, it has become a kind of unofficial end of summer and much less a contentious matter. Many sports like NCAA football, high-school sports, and NASCAR and mark this weekend as their unofficial season launch.
Labor Problems
Unfortunately, in addition to the bad weather across the South and Northeast and the wildfires out West, this Labor Day was marked by some exceptionally poor labor statistics. For starters, let's look at the numbers (source: Bloomberg). Economists predicted the change in non-farm payrolls would show an increase of 733k; the actual result was way off, at only 235k. This indicator measures the increase in the number of employees on business payrolls.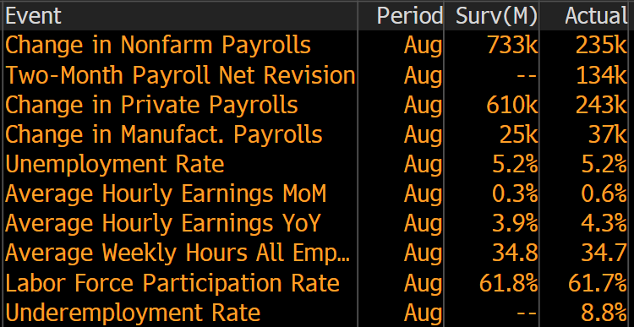 When the number came out it initially struck me as odd that more people weren't getting jobs. From my limited personal experience here in the Midwest, I see help wanted signs all over the place. Once I started digging a little though, it all made sense. I landed on the U.S. Department of Labor website which you can find here.
This past weekend, all Federal pandemic unemployment programs came to an end, in particular the Federal Pandemic Unemployment Compensation (FPUC). This program provided an additional weekly $300 supplemental payment to claimants who received at least $1 of regular or federal unemployment benefits. The supplement went above and beyond what you would normally get from other federal and state unemployment programs. It's super confusing, and quite frankly the more time I spent on the government website the more bewildered I became. I frankly cannot imagine navigating through all the red tape without some assistance (read: more Federal employees).
All of this has driven starting wages, even entry-level wages, higher. If we check the table above, we can see that Average Hourly Earnings is up by quite a bit, 4.3% year-over-year. As I suspect you have seen for yourself, virtually every store/restaurant/hotel is willing to start people off at $15/hour or more, sometimes with a starting bonus. They are desperate for workers. As recently as this past May, 84% of restaurant operators reported that their staffing levels are significantly below normal. I have experienced the understaffing problem as a patron in more than one local restaurant. However, it gets even more complicated. As the New York Post reported regarding restaurant bookings this week:
"We see a pronounced decline in bookings for July and August. While several factors could be at play here, we believe the primary driver of the downturn is diners' concern about the rise in COVID cases." - Debby Soo, CEO of Open Table
Many restaurants report that they are hanging on because of the popularity of outdoor seating. It is nice to eat outside, when it's between 65 and maybe 80 degrees, but once again—Labor Day officially marks the end of summer. I don't think quite as many people will be wanting to eat outdoors in Chicago during wind chill advisories! A survey I found from the National Restaurant Association said that 19% of adults have completely stopped eating out due to COVID fears. Think about that! That is a huge number. In the same survey, 60% of restaurant diners had at least modified their behaviors. That is significant.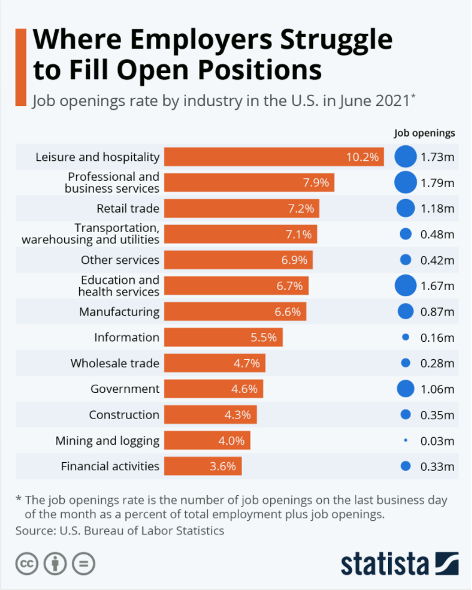 So, not only are hospitality venues force to spend more on labor, but they are also facing the potential of much lower sales in September and beyond. The CEO of Delta airlines recently stated that they won't breach 60% of capacity in September, as they are seeing many cancellations of their typical business traveler in response to the uptick in the Delta variant's spread. This will also affect hotels, rental cars, and restaurants. It's pretty much a witch's brew of confusion and trouble for those industries. I found this graphic (from Statista) which I think does a pretty good job of showing where the unfilled job openings are, by industry. According to this graphic alone, there are at least 9 million job openings. Yet only 235k new jobs were added last month. This does not compute—something is wrong.
So, here's the thing: the stock and bond markets are just shrugging this news off!
The Fed is just simply pushing so much money into the market that it sometimes feels like it cannot go down. The talking heads came to the quick conclusion that this seemingly horrific jobs report was actually good news for the market because it would give the Fed ample reason to push off tapering and ultimately any rate rise. Hmmm.
As you know, I love to watch the money supply and the velocity of same and yes, they are continuing their seemingly unending trends. The money supply continues higher, and velocity continues lower.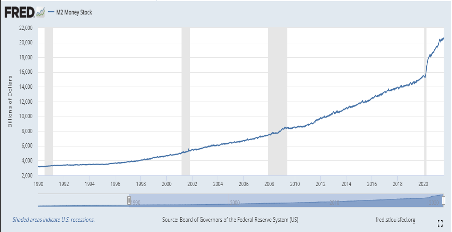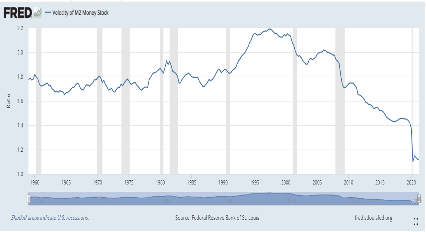 Something has got to give. Discipline in the investing process has got to be the top of your priority list, but what I see is that people are getting less disciplined the further these trends go. Just the other day in the Wall Street Journal's Business & Finance section, the top headline was "Low-Rated Bonds Draw Yield Seekers". How do you think that will play out? I'm keeping that article in my files as a probable exhibit in a post down the road!
Discipline in the investing process has got to be the top of your priority list, but what I see is that people are getting less disciplined the further these trends go.
Final, final thought: I found a fantastic Chicken Tetrazzini recipe. It's easy, my family loves it, and it is so dang good. E-mail me if you would like me to share it with you.
Be sure to fill out the form below to subscribe to my weekly blog.