Student loan debt is bigger than I thought it was. To be honest, I've heard about it in the news and on TV, but for me, it has kind of gotten lost in the shuffle. In December of 2020, I interviewed Tim McCrary on the topic because more and more politicians were proposing plans to forgive student loan debt. This was, of course, a bit of a shocker to the capital markets because the FFEL program (FFELP) has securitized so much of this debt and much of that securitization is still held in portfolios across the country. As I started to dig back into it this week, I found some shocking figures on the size and scope of this debt. Check out the following table that I found on the Education Data website. I encourage you to check out this site because I cannot encapsulate all the statistics it provides within this short piece—it has tons of fascinating data!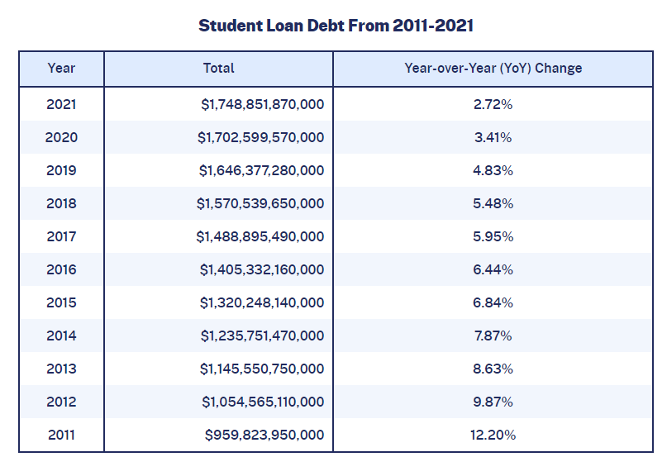 Yes, you are reading that number correctly. There is almost 1.75 trillion in student loan debt outstanding, and somewhere around 10% of that is privately held. That is a lot of money. The average outstanding loan is approximately $37,014. Wow. Most of that is owned by the federal government, but still, the idea of forgiving all this debt has some serious repercussions to the markets and investors around the globe, including banks and credit unions. I thought we should revisit this topic, especially as we head into the midterm elections. I think we can safely say that if Republicans reclaim the House or the Senate, forgiveness probably will not happen. Right now, many think at least one of the houses will change hands, but a lot can happen in four months.

I felt that, given the politics and the time frame, it would be a great time to check back in with our expert Tim McCrary to see what's really happening in the student loan-backed investment space. So, on to the interview!

Tim, as the midterm elections in November get closer, there has been more chatter in Washington around student loan forgiveness. This is nothing new, as it was a common topic leading up to the 2020 election. It is, however, back in vogue, and even President Biden seems more motivated to get something done than he has been previously. Given the massive size of this market, I wanted to re-connect with you on this topic. Can you update us on your latest thoughts around student debt forgiveness, and specifically how it could affect FFELP Bonds?

Sure, Kurt. First, it's important to distinguish between the Federal Direct Lending Program (FDLP) and the Federal Family Education Loan Program (FFELP). FDLP loans are owned by the government and originated directly with borrowers. These loans have been owned by the federal government since they originated and remain so today. FFELP loans, on the other hand, were originated by third parties and are owned by private investors. The FFELP started in the mid-1960s and ended in 2010 when it was replaced by the FDLP with the intent of saving money by cutting out private intermediaries. Because the FDLP has been in place since 2010, a supermajority of outstanding student debt now falls under that program. Of the roughly $1.75 trillion of outstanding student debt in America today, $1.45 trillion is in FDLP loans. The remaining $300 billion is largely in FFELP loans ($135 billion of which is securitized), with a small percentage in completely private student loans (originated and owned by the private sector, with no guarantee from the government).

With that background, let's look at what Congress has already done to help student loan borrowers. A portion of the CARES Act passed in March of 2020 suspended principal and interest payments on federally held student loans. While most student loan borrowers in America were eligible for this relief (because the majority of outstanding student debt was originated under the FDLP, and as a result is owned by the government), loans in FFELP bond deals were not eligible. These loans are held privately by trusts and are only reinsured by the Department of Education (DOE), meaning they are not federally held student loans. This relief has been extended multiple times and still is in place today (more than two years later), but consistent with the original law, it still did not include the FFELP loans that are in investable bond deals. FFELP borrowers did get some relief through disaster forbearance early in the pandemic, which allowed borrowers to suspend payments for around three months and waived interest during that time. When the pandemic hit hard in the US, the situation was classified as a national emergency and all borrowers were given the option of taking disaster forbearance. That three-month period has since concluded and has not—not yet at least—been renewed. It's worth noting that this disaster forbearance did not suspend interest payments coming into FFELP bonds as the DOE subsidizes loan holders with Special Allowance Payments (SAP), but it did slow principal repayment rates for the near term.

So that's what the government has done so far, but what should investors be focusing on in the coming months and years?

That is a tough question since we can't really see a totally clear picture of the future, but we do know that many among the Democrat leadership in Congress have put their support behind student debt forgiveness over the past few years. Back in May of 2019, we did a breakout theme on a Level Playing Field webinar in which we discussed debt forgiveness plans proposed by then-Democratic Presidential candidates Bernie Sanders and Elizabeth Warren. These ideas were relatively important parts of their policy platforms at the time, but the push lost momentum when Joe Biden secured the nomination. Over this past year and a half, several ideas around student debt forgiveness have been proposed, but none have become law. Most notably, Elizabeth Warren and Chuck Schumer called on the incoming Biden Administration to issue an executive order forgiving up to $50,000 of student debt per person, without any vote on the plan from Congress. The Biden Administration has not shown support for this specific policy, and there is question as to whether it would even be legal, but the Administration has generally agreed that student loan forgiveness should happen in some fashion.

Let's get down to some of the practical implications if forgiveness were to actually happen. Specifically, what would happen to FFELP bonds if student loans were forgiven? What would the financial impacts to investors be?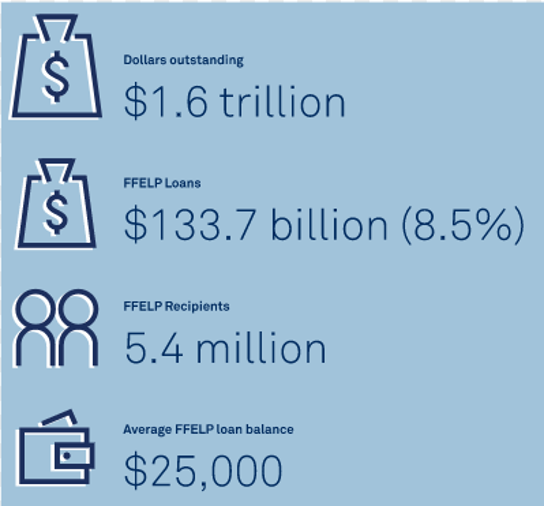 First Kurt, forgiving FFELP loans will likely be more difficult for the federal government to push through than forgiving the FDLP loans they own would be. We saw this difference in March of 2020 when it came to payment relief. That said, politically, it's understandably difficult to tell certain borrowers they get relief while others don't, as both groups took the government option available to them at the time, they borrowed money.
Let's assume debt forgiveness does become law and that it includes the FFELP loans underlying FFELP bonds. Previous proposals have designated revenue sources with which to pay for this debt relief. For example, Elizabeth Warren proposed a tax on individuals above a certain level of net worth, and Bernie Sanders suggested a tax on all equity and fixed income trades. If there is a dedicated revenue source associated with the debt relief law, current creditors would presumably be paid back for any debt that is forgiven, especially if the legality of the government's authority to outright forgive that debt is in question. In other words, it seems extremely unlikely that a relief law could pass (or withstand legal challenge) that simply "took" from the creditors. If debt forgiveness passes and loan owners, and subsequently bondholders, end up being paid off at par, this would overall be a positive for the FFELP investors, as most of these bonds trade at discount dollar prices with only some at small premiums.
So, my mind goes in a lot of directions at this point. I guess that in theory, if the government were somehow able to pull this off and somehow repay all of the debt holders at par, that would be one thing. But what if the debt is forgiven but not repaid to lenders in full, and instead all the underlying loans in the securitized FFELP deals are treated as defaults? That seems like an Armageddon-type scenario given all the various debt holders. Wouldn't that lead to thousands of legal battles between FFELP loan holders and investors? Would the investors in the subordinate/lower priority tranches of FFELP deals get wiped out?
Remember, FFELP loans are guaranteed at a minimum rate of 97% of their outstanding principal balance, first by a third-party guarantee agency and then further reinsured by the Department of Education, this latter being an explicit guarantee from a department of the federal government. While this guarantee represents the lion's share of FFELP bonds' principal protection, senior tranches also have credit enhancement. In most deals, senior tranches enjoy the buffers of a combination of subordinate tranches, over-collateralization, and reserves in the trust. These are all subordinate to the senior tranches and take losses before them, which helps protect the senior bonds from the risk of loss even if defaults rise significantly. So, in this unfunded version of a relief law, the most subordinated credit support tranches could see significant losses, senior tranches probably none, and raw loans, well, about 3%, I guess.
The last major consideration for FFELP bonds from a principal protection standpoint is a concept called 'claim rejections'. In unique circumstances, the DOE may reject a guarantee agency's reimbursement claim on a defaulted loan if the loan was originated or serviced in a negligent or improper way. The occurrence of claim rejections is very low, roughly 0.10-0.20% per period, for all submitted claims. Despite being so low, it's worth mentioning because as I noted above, the 97% or more guarantee on FFELP loans is the main bulwark of principal protection for the bonds. Aside from net claim rejections, at least 97% of the balances for FFELP loans are insured by the DOE, whose failure to honor their guarantee would be analogous to guarantees not being honored on GNMA or SBA bonds. When we consider these factors, even when running credit stress cases on FFELP bonds and assuming meaningfully higher-than-observed default rates and claim rejections, I think the FFELP bonds your readers are likely to hold would not take a loss.
These kinds of political moves get more complicated once you get down to the nuts and bolts. What seems like an easy political talking point is obviously much more complicated if you actually try to pull it off. Tim, what final thoughts you can leave us with as we watch out for the headlines in the days and months to come?
I think you said it well. On the surface, forgiving debt is usually a popular idea. But even though there is political support for student debt forgiveness, from both the current Congress and President Biden, it's just not that easy to make happen when it comes specifically to FFELP loans. The legality of the government forgiving privately-owned FFELP loans is highly questionable, but even if it were permitted, and even if such forgiveness did not come with repayment to lenders from the federal government but rather resulted in the default of all FFELP loans, the senior tranches in FFELP bonds at least are unlikely to take losses. This is because the loans are guaranteed at 97% or more of their principal balance and senior bonds have credit enhancement much greater than 3% in nearly every circumstance. Because these bonds are unlikely to take principal losses and largely trade at a discount or small premium dollar prices, debt forgiveness would likely be an overall positive for investors in senior FFELP bonds (assuming attractive alternative investments are available for the pay-off proceeds).
OK, lots to digest here. Tim, I want to thank you again for spending your time and expertise with us. Tim can be reached if you have any more specific questions (or insights!) @ tmccrary@performancetrust.com
Final, final thought: I am officially a fan of short ribs. I think they are underutilized, and we need to eat more of them. I'm going to do my part, at least!
Fill out the form below to subscribe to my weekly blog.
The information, analysis, guidance, and opinions expressed herein are for general and educational purposes only and are not intended to constitute legal, tax, securities, or investment advice or a recommended course of action in any given situation. Information obtained from third-party resources is believed to be reliable but not guaranteed. All opinions and views constitute our judgments as of the date of writing and are subject to change at any time without notice. Past performance does not guarantee future results