Back in early May, I wrote a piece called "Barbarians at the Gate." At the time, I was concerned that there were some significant inflationary pressures building across a wide array of consumer goods like lumber, copper, oil, and groceries. Within the last couple weeks, the popular press has really jumped on this bandwagon and I guess you can now say that the barbarians are starting to pillage the city. On Friday (June 11th)) the Wall Street Journal's lead article was entitled "Inflation Jumps to 13-Year High." Article author Gwynn Guilford noted that:
"Prices for used cars and trucks leapt 7.3% from the previous month, driving one-third of the rise in the overall index. The indexes for furniture, airline fares and apparel also rose sharply in May."
However, I'm not sure that the real headline should just be about prices rising - there are a lot of other strange dynamics going on, so I'm not sure we are fully capturing just by looking at the CPI index or the rise in the cost of furniture.
Shipping containers are massively imbalanced
Let me start by saying that I am in no way an expert in the global logistics of shipping. However, as I started diving into some research, I found out a lot about what has been happening in the world of shipping containers. It turns out that this story is actually part of the slow unwind from the global pandemic. At the front-end of the pandemic, ships were unloaded and their containers were sent into the interior of the United States. As you know, a massive slowdown followed in most of the developed economies. Producers received their goods, but many were effectively shut down in response to a massive change in consumer behavior as well as to adjustments to their own staffing practices. This left partially filled and empty containers marooned at inland facilities. Another logistical twist is that many countries—including China and the U.S.— would not accept containers from other countries during the pandemic. Now that the system is reopening and the demand for goods is drastically increasing, these containers are everywhere except where they need to be: at sea (get my title now?). In our interconnected manufacturing world, this has led to a cascade of bottlenecks.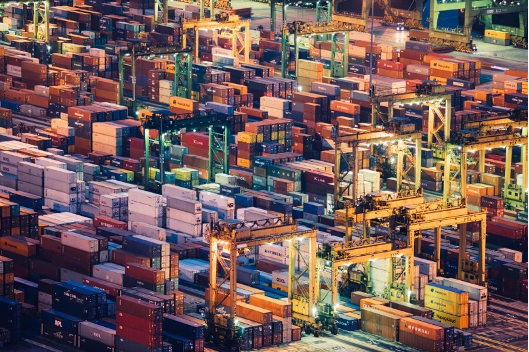 Ian Doherty, the CEO of Hexstone, which is one of the largest tool-and-die companies in the U.K., was quoted in an article in Ship Technology Global. He said:
"We have goods that we are unable to ship because we haven't been able to get containers, we've had delays of anything up to six to eight weeks where we've had product ready to go but unable to get to the Far East. It's a real impact. I don't think we've had a single boat dock on time. We are constantly having containers put back."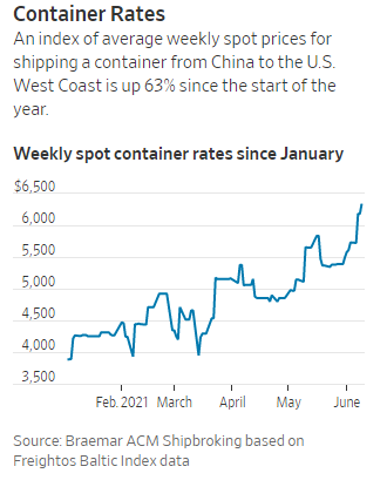 If the producers of the literal "nuts and bolts" can't get their materials out to factories around the world, then those factories can't make their products, and thus we can see backlogs in all kinds of consumer goods. This in turn exacerbates the container problem, because producers aren't filling the ones they've been sitting on, and shipping them back out into the system. This cripples the supply curve, pushing prices higher.
I've always been somewhat amazed that by some complicated, coordinated process, a factory in China can fill a shipping container with Nike shoes, which gets put on a train or a truck, goes to a busy port, spends weeks in a huge stack on a ship at sea, is offloaded at another port, rides another train, another truck, and finally ends up in the right place. That complex system has become much more complex with this imbalance in the locations of the needed containers.
Chip shortages
Let me jump from about the least advanced technology imaginable - steel containers - to perhaps one of the most advanced - computer chips.
The cars and trucks of today are pretty amazing. Most new cars are kind of like rolling computers, filled with chips of all kinds. Cool features require more and more technology. This is also true for so many of the consumer goods in the marketplace today. Most appliances have onboard computers. I've seen some demos of refrigerators that are an amazing display of technology at work. Unfortunately, when everything the consumer wants to buy relies on numerous computer chips, and there is a shortage of chips, problems are bound to arise. On June 11th, the Wall Street Journal published an article which ties the shipping container story and the chip shortage together nicely. In the article; "Fresh COVID-19 Outbreaks in Asia Disrupt Global Shipping, Chip Supply Chain," the container problem is discussed at length, in addition to the news that there are significant new COVID-19 outbreaks in Taiwan and China where most of the world's chips are produced. The article noted that:
"At King Yuan Electronics Co., one of the island's largest chip testing and packaging companies, more than 200 employees have tested positive for the virus this month, while another 2,000 workers have been placed in quarantine."
The article does not paint a rosy picture in the short-term for a return to normalcy in chip production. It's another supply chain issue that I am not sure we have ever really experienced before, because without the nuts and bolts as noted above - and without the chips - a lot of the things that we want to consume cannot be produced. So once again, we encounter a significant supply and demand curve issue.
This does not just impact new cars, trucks and appliances. Any time a one of these has an electronics issue requiring repair, the needed the parts will be delayed. I think you get the picture. And the real story probably may lie in the bigger manufacturing, airline and electronics industries. Not only are our consumer goods incredibly reliant on computer chips, but so too are the factories, equipment, and vehicles used to make and transport all that stuff. Double whammy.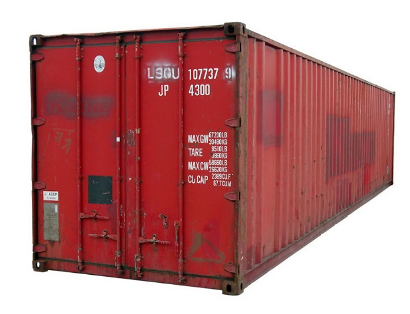 Who would have guessed that the amazing tech we have come to take for granted is so vulnerable to issues revolving around rusty old freight containers?
My conclusion: The global economy is a very complicated system. I doubt that anyone can really know how every and all the ways the various parts of it interconnect. I, for one, never really worried that a shipping container problem might hobble the computer age, but here we are. Whenever small bits of incredibly complicated systems get out of whack the resulting ripple effect on the larger systems sometimes take a while to play out. So, while it is clear that the economy is heating up, this seemingly backwater issue - shipping containers in all the wrong places - may disrupt the recovery we all want to see happen.
Final, final thought: It was so great to see ballparks across the country sold out this weekend. I can't wait to get out to Wrigley for a hot dog and a cool beverage. No ketchup of course! After all, I don't want to be escorted from the ballpark!
Be sure to fill out the form below to subscribe to my weekly blog.